27 Amazing Backyard Landscape Design Ideas
Are you thinking of designing your backyard landscape but stuck for ideas? Well, you are in the right place. Checkout below 27 amazing backyard landscape design ideas we handpicked for you along with beautiful photos. Enjoy!
What are the benefits of backyard landscaping?
Beautifies your home outdoor space
Place to enjoy the pleasures of gardening
Area for cultivating a vegetable, herb garden or grow flowers
Your own haven to relax and to enjoy nature
What are the main options for backyard landscaping?
Structures: patio, pond, gazebo, garden bridge, gabion, waterfall, pool, natural fence, garden path
Furniture: lounge chairs, benches, wicker garden sets
Accents: statues, fountains, bird bath, re-purpose accent pieces, lighting fixtures
What follows is beautiful photos of beautiful backyards along with design ideas we thought may be of interest to you. Enjoy and happy backyard landscaping!
27 Amazing Backyard Landscape Design Ideas
1. Waterfall Feature
Points of Interest ● Japanese-inspired covered patio ● pond ● waterfall ● stone slab bridge ● stone and boulder pond surround
2. Serpentine Bench
Points of Interest ● serpentine concrete banquet bench ● yellow and orange West Elm martini side tables ● curved stone garden edging that doubles as pathway ● colorful throw pillows
3. Raised Patio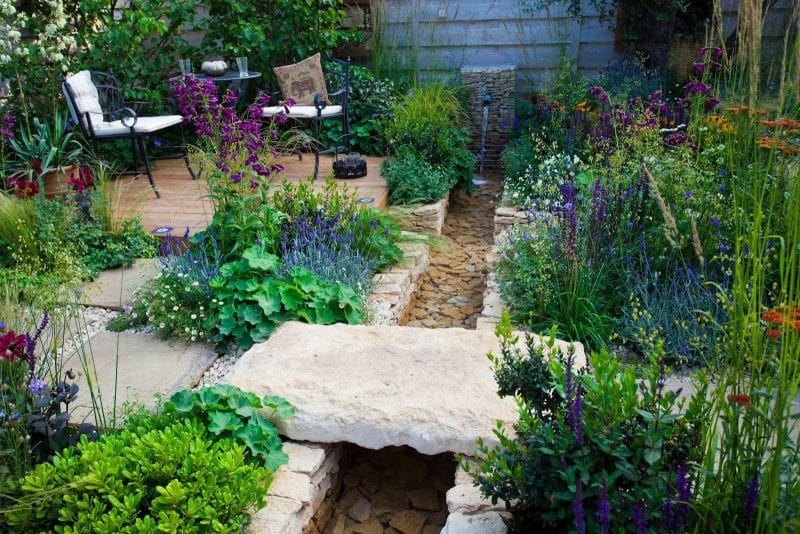 Points of Interest ● gabion column with water feature ● natural stone retaining walls ● wooden deck ● iron garden armchairs and cafe table ● purple perennial flowers in beds
4. Lap Pool Patio
Points of Interest ● mini lap pool ● water walls ● pebble catch basin for pool overflow ● outdoor patio ● dry stacked stone pillars. Excellent backyard landscape design ideas
5. Blue Bridge
Points of Interest ● blue vinyl curved bridge ● light colored pebbles and limestone step stones on path ● oriental lilies ● garden pagoda
6. Beachy Backyard
Points of Interest ● wheelbarrow planter box ● pair of beach chairs ● hammock ● plant beds with river rock garden edging ● chicken wire fence
7. Japanese Inspirations
Points of Interest ● wood and brown main structure palette ● Japanese inspired wood garden bridge ● wave roof tile ● wood slats picket fence ● wind chime.